As a result of the frigid weather affecting much of the United States, it is likely that pipe bursts will occur. If you or someone you know has suffered such a loss, or if you have any other immediate property insurance claim needs, please contact Barry Flax at 800-858-3900, ext. 1114 or bflax@gggco.com.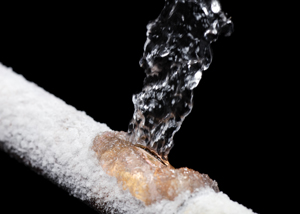 As winter continues on with record low temperatures, pipe breaks are a cause of significant damage and aggravation for business owners. As a property owner, there are several steps that can be taken to prevent the problem from occurring in the first place, and numerous other measures to be implemented immediately following a pipe break in order to contain the damage.
Insurance companies may deny coverage for broken pipes if they are a result of wear and tear. As there are numerous buildings in the country that are more than fifty years old, it is very important to maintain the pipes in your building, ascertain that they are in good working order, and replace older pipes that may be on the verge of breaking. In addition, temperature control around a pipe is an important factor. If the pipes are exposed to colder temperatures, they have a greater chance of freezing, breaking, and causing severe damage to your property.
If a pipe breaks, cut the water at the source immediately and, if necessary, call the fire department to help cut off the water. As water spreads throughout several floors, it is very important to mitigate your damages by removing any carpet and carpet padding that has the potential for mold, drying out the walls and the internal cavities of the walls, as well as drying out the elevator shafts within the first 24 to 48 hours. Although wet walls can look dry, they may still be wet. Drying machines, humidifiers, and proper air circulation will help accelerate the drying process.
If you have experienced a burst pipe at your property, contact the public adjusters at Goodman-Gable-Gould/Adjusters International. Our team is available 24/7 to help you get started on your insurance claim, making sure the full extent of your loss is documented from the start. We are available to assist our clients in arranging for vendors such as plumbers, electricians, elevator repair experts, and, most importantly, a disaster response specialist close by to mitigate water damage if a pipe breaks.
Our public adjusters will be by your side during the entire claims process. We are there to advise you in how to get the most out of your insurance claim. We recommend that you keep a folder with all expenses related to the pipe break, and make sure you promptly receive invoices for completed work. You should keep track of any overtime your personnel might work as a result of the broken pipe. These costs can be claimed if you have the appropriate insurance coverage.
Taking prompt action immediately following a loss could certainly prevent additional expenses. And hiring the public adjusters at Goodman-Gable-Gould/Adjusters International will help ensure that you maximize your insurance recovery. Call us today at 800-858-3900.