Public Adjusters for Homeowners Collapse Damage
Your home just collapsed. Do you know the cause? When it comes to homeowners insurance and property damage, collapse is a peril up for interpretation. Our public adjusters are seasoned professionals in determining what you are truly owed from such a catastrophe.
As your policyholder advocate, we break down walls with your insurance company to get you the money you are entitled to from your claim.
A collapse can happen from sudden natural disasters like a mudslide or hidden causes that over time compromised the structural integrity of your home, such as insufficient construction methods and draining systems, decay, and infestation. Even heavy collection of rainwater on your rooftop could lead to roof damage and be considered a cause.
Still, your homeowners insurance policy may state exclusions or limitations related to these causes that could limit your coverage if you suffer collapse property damage. It can leave you vulnerable to an unreasonable damage assessment by your insurance company and its adjusters that will not get you what you deserve. That is why our team of public adjusters works on your behalf, bringing to the situation unmatched professional experience in claim management. We are fluent in your policy coverage, properly evaluate and document the extent of property damage, and negotiate your claim for the maximum amount so and your family can recover sooner.
The Goodman Gable Gould/Adjusters International Offices
What To Focus On After Collapse Damage
Make sure you fully understand the meaning of each of the following before you move forward. Feel free to reach out to us for a no-cost discussion about your claim.
How much do I really need to know?

How can I minimize the emotional toll on my family?

How can I minimize the effect on my work/career?

How large an advance should I expect?

Is there anyone on my side?

How much time over the next several months will you need to put aside to handle your claim properly? How will all those hours affect your family? Your job?

What is the emotional investment that you will need to commit to the process?

Can you get paid for your time?

Are you entitled to an advance from the insurance company? What is reasonable?

What is your broker or agent's role? Will his/her role be active or passive? When faced with supporting your position or the insurance company's, where will he/she stand?


Are you familiar with the forms/practices below and what their request/issuance is telescoping? Request for a Proof of Loss. Reservation of Rights letter. Request for an Examination Under Oath.


What does it mean when the insurance company recommends a preferred vendor? Who is this vendor working for, really?


Contractors may tell you they can do what public adjusters can do. Can they really? What is their background and education in insurance? Are they bonded? In many states, like California, it's even against the law!

What is the insurance company's motivation in preparing a reconstruction estimate for you? The policy says it is your responsibility. Why are they willing to do it? How do they benefit?


What is the difference between functional replacement and true replacement? Should you care? Why?

How is actual cash value determined?

Can you do the repairs yourself? Are you entitled to the profit that a contractor would typically charge? Are you entitled to the overhead that a contractor would typically charge?


What are the benefits and the pitfalls of replacing your home vs. selling?

Do you have to replace on the same site? Can you buy or build elsewhere?

Can you collect code coverage allowances if you build elsewhere?

How quickly can you get started rebuilding?
Property Damage Losses Homeowners Claims Recovery Process
Property Damage
Time Element
Life & Safety Issues
Mitigation of Damages
Establish A Preliminary Recovery Plan
Evaluation of Coverages
Valuation Of Damages, Claim Preparation, and Documentation
Negotiations & Settlement
Restoration Of Property & Operations
Homeowners Our Public Adjusters Have Helped
Client References & Testimonials

Client References

108 Owners Corporation Manhasset Condo

1618 14th Street, NW, LLC

17th Street Revocable Trust

18749C N. Frederick Corporation

2108 Bolton Street

218 East Main Street Partnership

245 Granby, LLC

380 York Road Associates

388028 British Columbia Ltd., Inc.

517 S. Broadway, LLC

53rd Street & Madison Tower Development LLC

700 S. Peters Owners Associates

732 Maryland Avenue Partnership

918 North Charles-Acquisition LLC

A & D Convenience

A & G Management

Aberdeen Village

Absecon Home Center

Accuworks, Inc.

Acme Paper & Supply Co.

Acri Graphics

ADA Association

Testimonials

At all levels and in every regard, personnel associated with your firm conducted themselves with the greatest degree of knowledge and professionalism providing the type of value-added service uncommon in today's marketplace.

Mark Mojave

Homeowner

We appreciated your ready accessibility and your willingness to get to the bottom of every issue that was presented…As a result you moved the immovable object and achieved a result that we never could have accomplished on our own. We cannot begin to thank you enough for your support, expertise and friendship throughout a very difficult time. And of course, for achieving so fine a settlement.

William Kominers, Esquire

Homeowner

Case Studies

For decades, L'Auberge Chez François has been one of the leading restaurants in the metro Washington, D.C., area. Known for its exceptional French cuisine and impressive service, the restaurant is a longtime favorite of Washingtonians celebrating anniversaries, birthdays or other special occasions.

A magnitude 6.8 earthquake, called Nisqually in seismic circles, rocked Seattle, Washington, in 2001 and severely damaged the Starbucks corporate headquarters building.

Super Typhoon Paka, as the storm came to be called, was a 12-hour session of destruction for the island of Guam. Stirring up winds in excess of 200 miles per hour, the tropical cyclone tossed buildings, planes and ships across the island like discarded toys. Among these was the headquarters of Continental Micronesia, a subsidiary of Continental Airlines. The main offices, the marketing buildings and the planes were damaged by the powerful typhoon.
Webster's lead definition of "collapse" seems so clear and straightforward as to preclude the possibility of such an event being debatable. Yet in the field of property insurance, few concepts have been as open to interpretation...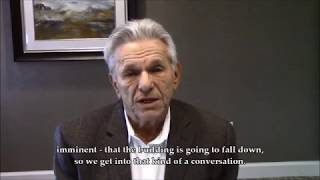 Bill Rake, Principal at The Greenspan Co./Adjusters International, discusses the challenges of collapse claims for home and business owners
Throughout the years, insurance companies have updated the policy language as to what constitutes a collapse loss and continue to do so today. How can you be sure you are covered? ...
Contact Us
If you're suffering from a homeowner property claim, we can help!
( * ) indicates required field