Public Adjusters for Winter Storm Damage
If your organization or community suffers winter storm damage to any of its facilities, your recovery can largely depend on how you assess and report the damage to your insurer. Our team of expert public adjusters will help you obtain the maximum claim recovery so you can get back on your feet sooner.
Because winter storms can cause a variety of damage, if you do not document and prove your loss properly, you may not receive the claim proceeds you need to fully recover.
If your organization or community's infrastructure is interrupted by a winter storm, you will not only face the challenges of securing everyone's safety and protecting the rest of your property. You will now also have to secure the necessary funding for your recovery. There may be a roof collapse, a pipe bursting and causing water damage and possibly mold, or even sudden fire damage. Do you know if you are covered in your insurance policy? The effect of any unrecoverable disaster costs can be an immobilizing blow to your organization or community.
Our public adjusters have expertly managed claims for every type of disaster at the regional, state, and national levels. We are called upon by communities, non-profits, and government organizations for our unique ability to mobilize a top team of professionals who have the unmatched experience and comprehensive understanding of the laws, regulations, and policies involving disaster recovery. This enables us to consistently coordinate and obtain the maximum reimbursement for our clients, so that they may recover.
The Goodman Gable Gould/Adjusters International Offices
What To Focus On After Winter Storm Damage
Make sure you fully understand the meaning of each of the following before you move forward. Feel free to reach out to us for a no-cost discussion about your claim.
How Our Public Adjusters Help You
Evaluate

Fully reviewing your insurance coverage.

Strategy

Developing a claim management strategy.

Compliance

Determining policy compliance issues.

Valuations

Completing detailed valuations of building, equipment and inventory losses.

Interruption

Formulating business interruption models.

Itemization

Presenting and supporting an itemized claim package to your insurer.

Negotiation

Negotiating on your behalf with your insurance company.

Communication

Keeping you informed every step of the way.

Settlement

Ultimately settling the claim for the maximum amount and with less hassle for you.
Government & Non-Profits Our Public Adjusters Have Helped
Client References & Testimonials

Client References

108 Owners Corporation Manhasset Condo

1618 14th Street, NW, LLC

17th Street Revocable Trust

18749C N. Frederick Corporation

2108 Bolton Street

218 East Main Street Partnership

245 Granby, LLC

380 York Road Associates

388028 British Columbia Ltd., Inc.

517 S. Broadway, LLC

53rd Street & Madison Tower Development LLC

700 S. Peters Owners Associates

732 Maryland Avenue Partnership

918 North Charles-Acquisition LLC

A & D Convenience

A & G Management

Aberdeen Village

Absecon Home Center

Accuworks, Inc.

Acme Paper & Supply Co.

Acri Graphics

ADA Association

Testimonials

...This storm caused area wide damage with downed trees and extensive power outages. The storm was declared a local, State and Federal disaster (Disaster #1665)...[your team] demonstrated a sincere interest and willingness to work with Erie County in its efforts to document the incurred costs and finalize the volumes of paperwork necessary as part of the Federal Disaster relief efforts...

Dean Messing

Deputy Commissioner/Emergency Services

Case Studies

For decades, L'Auberge Chez François has been one of the leading restaurants in the metro Washington, D.C., area. Known for its exceptional French cuisine and impressive service, the restaurant is a longtime favorite of Washingtonians celebrating anniversaries, birthdays or other special occasions.

A magnitude 6.8 earthquake, called Nisqually in seismic circles, rocked Seattle, Washington, in 2001 and severely damaged the Starbucks corporate headquarters building.

Super Typhoon Paka, as the storm came to be called, was a 12-hour session of destruction for the island of Guam. Stirring up winds in excess of 200 miles per hour, the tropical cyclone tossed buildings, planes and ships across the island like discarded toys. Among these was the headquarters of Continental Micronesia, a subsidiary of Continental Airlines. The main offices, the marketing buildings and the planes were damaged by the powerful typhoon.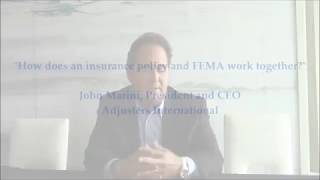 John Marini, President and CEO at Adjusters International discusses how FEMA and an insurance policy work together
Webster's lead definition of "collapse" seems so clear and straightforward as to preclude the possibility of such an event being debatable. Yet in the field of property insurance, few concepts have been as open to interpretation...