Public Adjusters for Flood Damage
A flood can carry more than water damage to your commercial property. Along with property damage, contaminated water can compromise the health of your employees and the effects of a flood can interrupt your business indefinitely if not handled immediately and properly. We can assist you with your flood policy. We navigate your policy, fully evaluate your loss, and prepare a claim to get you the optimum amount to recover.
As the National Weather Service confirms, flooding is a nationwide threat responsible for $3.5 billion per year in total flood insurance claims. Is your business prepared?
Flooding is unique from other perils because it is not typically covered in your commercial property insurance policy. This means you may have to obtain special coverage with your insurer or work with policies made available through the National Flood Insurance Program, which has its own set of rules. Also, water damage from a flood is an expansive topic that deserves a thorough assessment to determine the immediate and potential property damage, so your business will not suffer any further.
Post-disaster, this could leave you vulnerable to complex policy conditions and oversights that can stall the recovery process, and result in an inadequate flood claim. Running a business and managing a claim can be two full-time jobs. Our public adjusters lift the burden by handling your flood insurance claim. We work on your behalf with all other parties involved, preparing and supporting a detailed claim in order to attain the optimum settlement for you. With offices concentrated in New York City, New Jersey, Connecticut, Pennsylvania, Delaware, Virginia, Maryland, North Carolina, Georgia, Tennessee, and Florida, our expert public adjusters are ready to help you recover more, sooner.
The Goodman Gable Gould/Adjusters International Offices
What To Focus On After Flood Damage
Make sure you fully understand the meaning of each of the following before you move forward. Feel free to reach out to us for a no-cost discussion about your claim.
What is my agent/broker's role?

The insurance company hired a construction estimator. What do I need to know?

Wind Damage vs. Storm Surge vs. Flood. What is covered?

Why is a claim strategy so important?

Am I impacted by coinsurance?

Is a moisture survey necessary?
Property Damage Losses Commercial Claims Recovery Process
Property Damage
Time Element
Life & Safety Issues
Mitigation of Damages
Establish A Preliminary Recovery Plan
Evaluation of Coverages
Valuation Of Damages, Claim Preparation, and Documentation
Negotiations & Settlement
Restoration Of Property & Operations
How Our Public Adjusters Help You
Evaluate

Fully reviewing your insurance coverage.

Strategy

Developing a claim management strategy.

Compliance

Determining policy compliance issues.

Valuations

Completing detailed valuations of building, equipment and inventory losses.

Interruption

Formulating business interruption models.

Itemization

Presenting and supporting an itemized claim package to your insurer.

Negotiation

Negotiating on your behalf with your insurance company.

Communication

Keeping you informed every step of the way.

Settlement

Ultimately settling the claim for the maximum amount and with less hassle for you.
Industries Our Public Adjusters Have Helped
Client References & Testimonials

Client References

245 Granby, LLC

ADA Association

AM Property Holding II Corporation

American Home Improvement Products, Inc.

Americo Manufacturing Co.

Amsterco

Angler Restaurant

The Atrium

Azalea Garden Apartments

B & B / Econo Lodge

Bachly Enterprises

The Banner Company

Banner Management

Barclay Towers

Basil Morgan, MD

bda, inc

Beach Cabana

Bedroom Showcase

Benetton Of Georgetown

Testimonials

All insurance policies have their 'gray' areas, and ours was no exception… I was particularly impressed with… your team's ability to navigate through those areas and present them strategically… in the best light for your client. I really believe that our final claim resolution was significantly better than it would have been.

Donald C. Wood

President and Chief Executive Officer - Federal Realty Investment Trust

Case Studies

For decades, L'Auberge Chez François has been one of the leading restaurants in the metro Washington, D.C., area. Known for its exceptional French cuisine and impressive service, the restaurant is a longtime favorite of Washingtonians celebrating anniversaries, birthdays or other special occasions.

A magnitude 6.8 earthquake, called Nisqually in seismic circles, rocked Seattle, Washington, in 2001 and severely damaged the Starbucks corporate headquarters building.

Super Typhoon Paka, as the storm came to be called, was a 12-hour session of destruction for the island of Guam. Stirring up winds in excess of 200 miles per hour, the tropical cyclone tossed buildings, planes and ships across the island like discarded toys. Among these was the headquarters of Continental Micronesia, a subsidiary of Continental Airlines. The main offices, the marketing buildings and the planes were damaged by the powerful typhoon.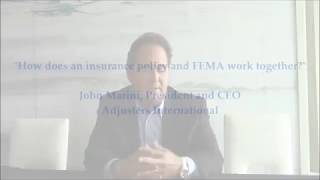 John Marini, President and CEO at Adjusters International discusses how FEMA and an insurance policy work together
Assisting policyholders in understanding which types of damages will be covered by normal flood insurance, NFIP and FEMA
Contact Us
If you're suffering from a commercial property claim, we can help!
( * ) indicates required field