Public Adjusters for Homeowners Winter Storm Damage
Your home is hit with a winter storm. Heavy snow causes a roof collapse or pipes freeze causing water damage and possibly mold. When it comes to winter storm property damage and your homeowner's insurance policy, our public adjusters are experts in determining what you are truly entitled to claim from such a catastrophe.
As your policyholder advocate, we handle every step of the insurance claim process and help maximize your insurance claim so you can recover sooner.
Your residential property can experience a range of winter storm damage, such as roof collapse from heavy snowfall, water damage and possibly mold from a pipe bursting in freezing temperatures, and even sudden fire damage from a space heater incorrectly connected. If the unexpected happens, your insurance company's team will have their own interpretation about the extent of your homes property damage and what is covered in your homeowner's insurance policy. As you focus on protecting your family and property, shouldn't you have an expert on your side representing only your interests as you file a claim?

Our professional public adjusters are there to lift that burden from beginning to end in your insurance claim process. We work only for you, not the insurance company. We level the playing field with our unmatched expertise and resources in evaluating, documenting, and negotiating your insurance claim for the maximum amount so you and your family can get back on your feet sooner.
The Goodman Gable Gould/Adjusters International Offices
What To Focus On After Winter Storm Damage
Make sure you fully understand the meaning of each of the following before you move forward. Feel free to reach out to us for a no-cost discussion about your claim.
Property Damage Losses Homeowners Claims Recovery Process
Property Damage
Time Element
Life & Safety Issues
Mitigation of Damages
Establish A Preliminary Recovery Plan
Evaluation of Coverages
Valuation Of Damages, Claim Preparation, and Documentation
Negotiations & Settlement
Restoration Of Property & Operations
Homeowners Our Public Adjusters Have Helped
Client References & Testimonials

Client References

Anthony and Barbara Black

Barry and Marilyn Dubin

Berlynn and Dexter Hansford

Brett and Marice Robinson

Brett R. Diamond

Brian Young

Chris and Susie Marentis

Christopher and Sue Wronsky

Cornelius van der Meer

Daniel and Robin Grunberger

David M. Bogard

Dennis Cotter

Emanuel R. Tocco

Fangyu Gao, Ph.D.

Gary and Theresa Gruber

Gary L. Krupp

George and Carolyn Shenk

George and Jane Martin

Gisele Gunter

Harold Cohen

J. Paige Dodson-Sneed

James and Wealtha Flick

Testimonials

At all levels and in every regard, personnel associated with your firm conducted themselves with the greatest degree of knowledge and professionalism providing the type of value-added service uncommon in today's marketplace.

Mark Mojave

Homeowner

Case Studies

For decades, L'Auberge Chez François has been one of the leading restaurants in the metro Washington, D.C., area. Known for its exceptional French cuisine and impressive service, the restaurant is a longtime favorite of Washingtonians celebrating anniversaries, birthdays or other special occasions.

A magnitude 6.8 earthquake, called Nisqually in seismic circles, rocked Seattle, Washington, in 2001 and severely damaged the Starbucks corporate headquarters building.

Super Typhoon Paka, as the storm came to be called, was a 12-hour session of destruction for the island of Guam. Stirring up winds in excess of 200 miles per hour, the tropical cyclone tossed buildings, planes and ships across the island like discarded toys. Among these was the headquarters of Continental Micronesia, a subsidiary of Continental Airlines. The main offices, the marketing buildings and the planes were damaged by the powerful typhoon.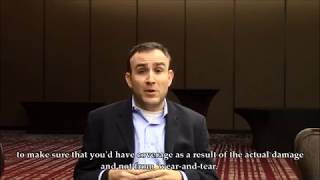 Scott Greenwald, Regional VP at GGG/AI discusses the challenges of winter weather claims for home and business owners
Webster's lead definition of "collapse" seems so clear and straightforward as to preclude the possibility of such an event being debatable. Yet in the field of property insurance, few concepts have been as open to interpretation...
Policyholders may not realize the benefits of hiring a public adjuster until they understand the complexities