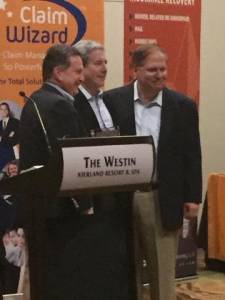 Harvey Goodman, SPPA, President and CEO of Goodman-Gable-Gould/Adjusters International (GGG/AI), was named the National Association of Public Insurance Adjusters (NAPIA) "Person of the Year." Harvey received this award on Friday, December 11th, at NAPIA's meeting in Arizona.
Harvey supervises and coordinates business operations for GGG/AI and is frequently asked to speak to a variety of groups regarding public adjusting. He has been the Engagement Partner for numerous significant property insurance claims during the last several decades. He is a Licensed Public Adjuster in 31 states and a graduate of the University of Maryland. Harvey is a member of organizations such as The National Association of Real Estate Investment Trusts, Risk and Insurance Management Society (RIMS), and The Economic Club of Washington DC.
Harvey served as NAPIA's President (1997-1998) and led the way in generating discussion on the unauthorized practice of public adjusting (UPPA). Stamping out UPPA has become a cornerstone of NAPIA's legislative and licensing efforts. Harvey has contributed greatly to elevating the profession of public adjusting and his time commitment and generosity in support of NAPIA and its important projects and objectives is exemplary.
Please join us in congratulating Harvey Goodman on this well-deserved honor!
To read NAPIA's press release, click here.